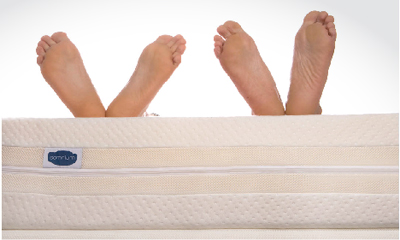 Two pairs of feet are often better than one. In the same way that taking a good concept all the way around the globe and crossing it with another sometimes yields a better product than the original. Case in point: Our mattress and our company.
'When I first moved to the US, I really missed my old bed,' admits Austrian native Rainer Wieland. The former gymnast found his first American mattress lacking in the support he had enjoyed at home; support that had kept old sports injuries at bay for years. After briefly flirting with the idea to remedy the situation for himself and 300 million Americans by importing beds from Europe, a better plan won out: Take the best of both worlds - American innersprings and high-tech European materials and design - and create something new and even better.
Joining forces with German marketing maven Susanne Flother, a former swimmer whose sleep troubles and sports injuries had mirrored Rainer's for years, the two friends developed the first Somnium mattress in 2006, a production in California and national distribution soon followed. 'And even though we haven't converted all of America yet, we are working on it', promises Susanne.